Double-Scalloped Madeira Christening Bonnet
From Martha Pullen/Husqvarna Viking II Licensing
The front edge of the Swiss batiste brim is finished with a handkerchief linen double-scalloped Madeira border and is attached to the border of the bonnet with entredeux, and embellished with gathered cotton lace edging. Narrow silk satin ribbon is run through a back casing, and two tiny little silk satin ribbon bows attach the wider silk satin ribbon ties. $90
Available in 3-6 and 9-12 months sizes
Eleanor Bonnet
Design by Judy Hill from Creative Needle, January/February, 1998
This fully lined bonnet of white Swiss cotton batiste has a pink Swiss batiste Madeira scalloped border, pinstitched and adorned with lovely bullion roses and featherstitch between the scallop points. At the center of the crown is a bouquet of three bullion roses tied with a shadow-stitch bow, with encircling featherstitch and pink piping at the periphery. The whole bonnet is edged with Swiss entredeux and one-inch gathered cotton lace edging, and tied with silk satin ribbon. $150
Available in 3-6 month size
Le Petit Oiseau Bleu Bonnet
Design by Wendy Schoen from The Best of Sew Beautiful Christening Gowns
Blue hand embroidery adorns the handkerchief linen brim and crown of this exquisite cotton organza bonnet.  Swiss entredeux and cotton tatting trim the crown, front, and back of this darling bonnet; the scalloped brim edge facing the crown is trimmed with the same cotton tatting.  Long, narrow-hemmed sashes of cotton organza are embellished with a whisper of blue hand-embroidery and attached at the sides of the bonnet.
Hand Embroidery – $200
Machine Embroidery – $125
Available in Newborn to 6 month size
Mary Alice Bonnet
Design by Jena Lane Blair, in memory of her beloved grandmother, Mary Alice Hoff, from "Sew Beautiful," Winter, 1990.
Made of Swiss batiste, this bonnet has three rows of double-needle pintucks on each side of cotton lace insertion, is smocked with rows of white geometric smocking on each side of white bullion roses, and is edged with cotton lace.  Narrow silk satin ribbon is run through a back casing, and 1/2-inch wide silk satin ribbon ties are attached at each side of the smocking design. Other colors are available for both the Swiss batiste and the smocking.  $110
Available in 6, 12, 18, and 2T sizes
Les Petite Enfant Bonnet
Design by Wendy Schoen in Creating Heirlooms for Baby
This stunning bonnet of Swiss cotton batiste is lavished with hand embroidery—-blossoming, full bullion roses separated by blue featherstitch around the pie-shaped bonnet base, and a blue shadow-worked bow flanked by tiny bullion rosebuds on the brim, which has a pink Swiss batiste Madeira appliqué border, edged with Cluny lace.  The brim is attached to the bonnet base with nine mother-of-pearl buttons.  The bonnet is tied with self-fabric ties embellished with bullion roses. $300
Available in 6, 12, and 18 month size
Portobello Bonnet
Made from the beautiful Swiss embroidered hem of an antique Portobello gown, ivory, lined, with fabric or silk satin ribbon ties, to be handled gently. Only two available for sale.  $100
Available in 6 month size
Sarah Blue Eyes Bonnet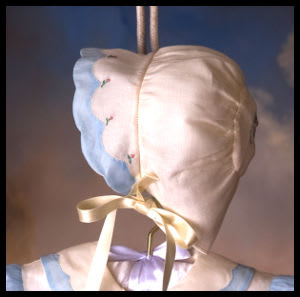 Design by Maja Clayton from "Sew Beautiful," #73, 2000.
Made from ivory Swiss cotton batiste and fully lined, the crown is delicately hand-embroidered with a bullion rose and two bullion rosebuds, and bordered with blue featherstitching on each side; the brim has a pinstitched double-scalloped Madeira appliqué border of blue Swiss batiste, which has hand-embroidered bullion rosebuds at each scallop point; the brim is connected to the bonnet by Swiss entredeux. Half–inch silk satin ribbon ties are hand-stitched to the sides of the brim.
Hand embroidered design described above – $150
Alternative machine embroidered design – $100
Available in 6 month size
Tiny Treasures Bonnet
Design by Wendy Schoen
Made of handkerchief linen and fully lined, the crown is embellished with a pink Swiss batiste butterfly.  The brim is hand embroidered with a blue bow, eyelets, flowers with satin-stitched leaves, granito petals, and a spray of yellow granito dots, and edged with cotton tatting.  Half–inch silk satin ribbon ties are hand-stitched to the sides of the brim.
Hand embroidered design described above – $200
Alternative machine embroidered design – $100
Available in 3-6 month size