Baby Bows
Design by Julie Gioscio using the Williamsburg Daygown pattern from Grandmother's Hope Chest by Martha Pullen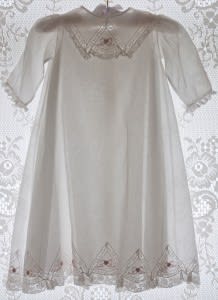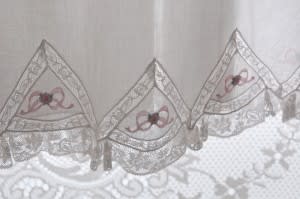 This sweet confection of white Swiss cotton batiste has lovely lace shaping at the neckline, creating a faux collar around a central shadow-worked bow, on which is embroidered a full-blossomed bullion rose, with tiny leaves and blue French knots surrounding it. The hemline has thirteen more lace shapes and bows with roses encircling the hem in subtle scallops, to which is gathered white cotton lace edging, mirroring the gathered edging below the faux collar and finishing the long sleeves. The 24-inch long gown buttons down the back with seven mother-of-pearl buttons.
Hand embroidery – $700
Machine embroidery – $500
Slip – The styling of the Swiss cotton batiste slip mirrors the styling of the Baby Bows gown. The neck edge, armholes, and hemline are finished with French lace edging. $75
Available in 6-month size
Bella Luna
Design by Wendy Schoen from Creating Heirlooms for Baby
Made of white Swiss cotton batiste, this button-down-the-back daygown has an adorable sleeping moon surrounded by shadow-worked stars and other embellishments. Blue Swiss cotton batiste is pinstitched in a scalloped Madeira applique shape to the sleeves and gown hems. Entredeux, lace beading, more entredeux and narrow cotton edging lace finish the sleeves. $350
Machine embroidery – $250
Available in Newborn, 6, and 12 month sizes
Blue Boy Daygown
Design by Peggy Dilbone from Elegant Sewing for Baby by Martha Pullen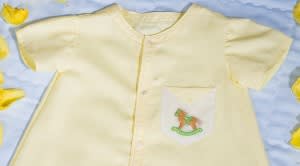 Made of yellow Swiss cotton baby flannel, this gown's pocket of white cotton organza has a machine embroidered rocking horse on it, under the Madeira stitched pocket accent of baby flannel, and is stitched to the gown with a wing needle pinstitch. The self-fabric facing is sewn to the neckline and down the sides of the front with a wing needle triple entredeux stitch. The gown has traditional boy cap sleeves hemmed with the same wing needle triple entredeux stitch, and a hand-stitched one inch hem.
Hand Embroidery – (with an alternative design)- $230
Machine Embroidery (as described above)– $180
Available in 0-3, 6-9, and 12 month sizes
Embroidered Teddy Daygown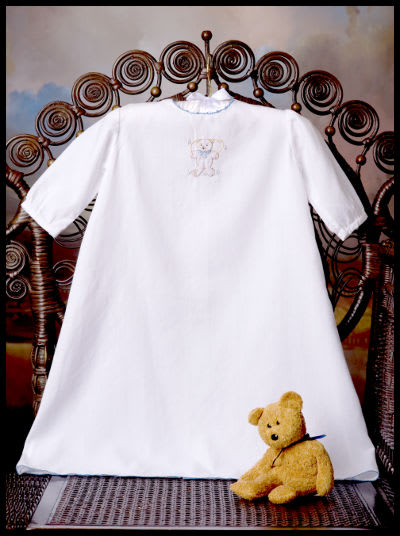 Made of Swiss cotton baby flannel, this daygown has a hand-embroidered teddy bear jumping rope. Sleeves are finished with a self-fabric cuff. The gown is trimmed with entredeux, which has cotton floss buttonhole-stitched twice in each hole, with tiny bullion picots sewn every seventh hole for a tailored finish on the neckline; hem is a 1 ¼-inch hand-stitched hem.
Hand Embroidery (as described above)- $210
Machine Embroidery (alternative design)– $160
Available in Newborn, 3,6,9,12,18 month sizes
Lace Diamond Daygown
From Elegant Sewing for Baby by Martha Pullen
This gown of blue Swiss cotton baby flannel is embellished with white lace-shaped diamonds surrounded with white machine featherstitching near the neckline and hem for a classic, tailored look. Six tucks on either side of the center front add to the tailored line. The long, puffed (or capped) sleeves are finished with a self-fabric cuff. This button-down-the-back gown has a 2-inch hem, outlined by narrow white cotton tatting, which also trims the neckline and sleeve cuffs. $400
Available in 0-3, 6-9, and 12 month sizes
Les Petite Enfant
Design by Wendy Schoen in Creating Heirlooms for Baby
This gorgeous gown of white Swiss cotton batiste has shaped Madeira appliqué of pink Swiss cotton batiste at the sleeves and gown hems, and swaths of blue shadow-worked bows and pink and yellow rosebuds accentuating the round yoke, sleeves and Madeira-shaped hem. Sleeve and hem are finished with Swiss entredeux and Cluny lace. The gown buttons down-the-back with seven mother-of-pearl buttons. $500
Machine embroidery – $325
Slip – The styling of the Swiss cotton batiste slip mirrors the styling of the Les Petite Enfant gown. The armholes and hemline are finished with French lace edging. $100
Available in 6, 12, and 18 month sizes
Bonnet
Pink Daygown with Lace and Embroidery
Design by Peggy Dilbone from Elegant Sewing for Baby by Martha Pullen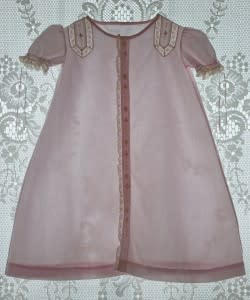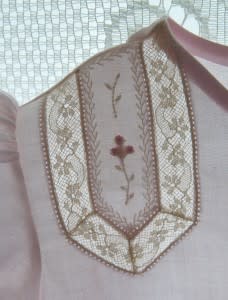 Made of pink Swiss cotton batiste or pima cotton, this darling daygown is embellished with eight trios of hand-embroidered bullion rosebuds, six in between each of the mother-of-pearl buttons on the gown front, which is bordered with dainty ecru cotton lace edging. Pinstitched lace shapes define the shoulder seams, and showcase the rosebud sprays within, which are surrounded by ecru featherstitching. The front plackets have wing needle double entredeux stitch on both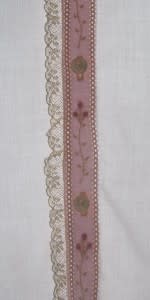 sides, further ornamenting the center front. Gathered ecru lace is pinstitched to the sleeve hem, and the sleeves are gathered by narrow silk ribbon threaded through holes created by a decorative wing needle stitch. The neckline has a simple quarter-inch facing hand-stitched down, and the bottom of the gown has a one-inch hand-stitched hem. $300
Slip – The styling of the Swiss cotton batiste slip mirrors the styling of the Pink Daygown. The neck edge, armholes, and hemline are finished with French lace edging. $75
Available in 0-3, 6-9, and 12 month sizes