Focus on Portobello
Portobello Market is one of the world's most fascinating antique markets, located on Portobello Road in London. One can find almost anything there–silver, porcelain, architectural and botanical prints, jewelry, linens, furniture–but I love to scout out treasures and find inspiration in the tiny shops that sell vintage baby clothes, and especially christening gowns. I scan the lace-edged gowns hanging from their high perches, and I ask to see this one or that one, and carefully take in the beauty on each of the lovingly pintucked and embroidered gowns that have been fashioned into exquisite works of art. I might add a gown, dress, or bonnet to my collection based on its overall beauty, or a design element that I love.
Flowers & Vines Broderie Anglaise Gown
Splendid use of broderie anglaise embellishes the front bodice, skirt, and hem of this circa 1850-1860 christening robe of fine cotton batiste.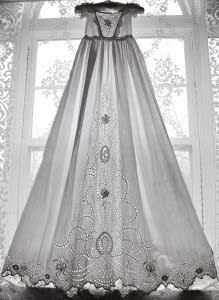 The sleeves, front bodice robings, back capes, and the neckline are edged with the same lovely eyelets and scallops. The front skirt embroidery design of flowers and vines includes satin-stitched bows at either side, and scalloped scallops worked in buttonhole stitch edge the hemline on front and back. Sewn entirely by hand, the gown is a work of art!
Bows & Scallops Bonnet
This darling bonnet, made of the finest cotton batiste, is another special treasure found on the Portobello. The brim has gorgeous scallops bordered by gathered French cotton lace on one side.  Embroidery with eyelets and swags of satin-stitched bows, flowers, and dots follow the line of the scallops, gracefully curving to meet the body of the bonnet on each side. A trio of satin-stitched flowers adorn the center of the crown, which is edged by scallops and French cotton edging lace.
"Heirloom dresses are worth so much more than the materials we put into them or the talent with which we make them. They have a way of gathering treasured memories, which come rushing back with each wearing." — Cyndi Holland, Sew Beautiful, issue 63.