Excerpted from SAGA News, Volume 34, Issue 2,  May, 2013
By Carolyn Cooke
Chapter Chatter
The Martha Washington Chapter in Northern Virginia was treated to a wonderful trunk show of antique christening gowns by member Leslie Roe!  Leslie has an extensive collection of christening gowns and daygowns. As she showed them, she gave a bit of the history of the art and fashion associated with each gown.Portobello Market is one of the world's most fascinating antique markets, located on Portobello Road in London. One can find almost anything there, but Leslie loves to scout out treasures and find inspiration in the tiny shops that sell vintage baby clothes, and especially christening gowns. She carefully examines the lace-edged gowns hanging in the markets, each one lovingly pintucked and embroidered, each one an exquisite work of art. Leslie has built quite a collection and purchases gowns, bonnets, dresses based on their overall beauty, or a design element that she loves.
Lovely christening gowns replaced swaddling during the early 1800s.  At first they were created from finely embroidered silks and satins. Once cotton became accessible,  hand-made white-work embroidery combining flowers and needle-lace fillings, called Ayrshire, became popular in Scotland.  The English adopted the Ayrshire as well as used Broderie Anglaise, another form of white-work embroidery characterized by overcast eyelets sewn in lovely patterns. The earliest gowns were simply decorated, and can be identified by their tiny yokes with string or ribbon ties running through casings at the neck and waist. In the 1830s the embroidery became a more important element, and by the 1850s, many gowns were characterized by lavish embroidery reflecting dramatic high Victorian style.
In the 1850s the square-necked yoke was lengthened. A variety of styles of raglan sleeves, back capes, and robings framing the center front embroidered panel were distinctive to their own time.  After about 20 years, a popular style was the bodice and skirt front cut as a single panel in a princess line and embroidered with tucks and lace.  Natural armholes were introduced. By the 1880s gowns were characterized by high, round necklines, all-round skirt decoration without robings, and bodices constructed of a composite of tucks,  lace, and embroidery.
When christening gowns first became popular, they were fashioned with a nod to women's clothing.  Oddly, though women's fashions have changed in shape and style over the last hundred years, the christening gowns we lovingly stitch today remain, with minor adjustments, very similar to the gowns we admire from so long ago.
  Excerpted from Sew Beautiful Magazine, Issue No. 134, 2011
Portobello 1840 Gown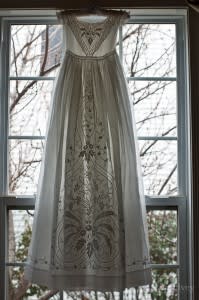 On one memorable trip, I noticed a new stall tucked into the vibrant patchwork of shops I frequent. It wasn't much more than an alcove, but in it were displayed perhaps twenty vintage baby gowns and slips. They were all interesting and a joy to view and touch, but I was leaning against purchasing any—then the proprietress uncovered a carefully protected christening gown and invited me to take a look.
It was gossamer light, and gloriously embroidered with simply stunning Ayrshire embroidery on its yoke, front skirt, and hem. The lace-shaping defined the front yoke and cascaded down the center of the front skirt. It was lovely in its own right, but when I looked closer, I was amazed to see trailing and satin stitching along the lace insertion on both sides. It appeared as if the lavish embroidery had been worked first, batiste had been cut away, and the insertion whipped to the trailing on both sides from behind. Lace shaping forming a stylistic "V" enclosed most of the embroidery on the triangular yoke inset. The inset  was bordered by  embroidered robings that extended over the tight raglan sleeves to adorn the back bodice. Delicate embroidery also was worked on the drawstring casing, which attached the yoke to the skirt. A tiny cord was woven in and out the lace edging at the neckline and tied in a bow at the center back.
I admire the skill of its maker, a needlework artist of the Victorian era who created a garment of such beauty that we are inspired by it today. I felt it was an exquisite piece, and one I am now privileged to own.
From the Sew Beautiful Blog, Thursday, September 16, 2010
Our friend Leslie Roe of Rosebasket has offered to share the most beautiful p
ainted antique gown with us. We hope you enjoy her story about this amazing piece of heirloom history!


"Portobello Market, the bustling antiques market on Portobello Road in London, is always a treasure trove for collectors of all kinds. The treasures I look for in the small crowded shops or from a vendor on the street are christening gowns, baby bonnets, and toddler dresses. I touch the materials of the vintage clothes—batiste, silk, and exquisite laces—and am amazed at the intricate work I see, whether of embroidery, or tucks, or lace, and inspired by creative elements in design. When I visited in early July, I had the privilege of seeing three gowns in Julia Craig's personal collection, brought for me not to purchase but to view and enjoy. Julia purchased this one ten years ago, with no provenance, but she dates it around 1870, because of the style of the gown and the dating of the Maltese bobbin lace."

"I found it so interesting, because of the center panel of ecru silk on the bodice and skirt, on which were painted lovely roses, reminiscent of Redoute. The Maltese lace borders the center silk panel from the neckline to the hem as well as at the waist, forms the sleeves, and edges the neckline. Aside from the silk in the front panel, the gown is cotton."
"Nineteen tucks detail the hem of the front skirt, which is attached to the bodice with the tiniest gathers."

"With the gown were darling bootees, also with roses hand-painted on the silk. Julia has never seen another gown like it. It is a treasure that I take pleasure in sharing with you!"